Huw Jones gets into bed with Glencraft
Huw Jones gets into bed with Glencraft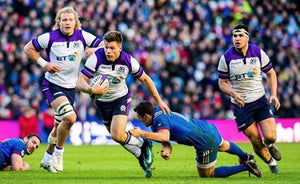 Scotland internationalist Huw Jones has partnered with Glencraft Luxury Mattresses to help improve his sleep and recovery time.
Huw, who also plays with Glasgow Warriors, has made a huge impact on the Scottish rugby scene. The 2017 Autumn tests saw an impressive Jones score tries in all 3 matches.
For many high performance athletes, the importance of sleep has been brought to the forefront in recent years.
Research has shown that achieving deep supportive sleep benefits the health, wellbeing and recovery time for athletes.
By incorporating adequate sleep into their routine, tennis players get a 42% boost in hitting accuracy
Sleep improves split-second decision making ability by 4.3%
After 4 days of restricted sleep, athletes maximum bench press drops 20lbs
Lebron James gets 12 hours of sleep per night
Glencraft have provided Huw with a mattress that is designed to help circulate blood flow better and relieve isolated pressures across the body.
Take a look at Huw's mattress: https://glencraft.luxury/products/the-monarch
Graham McWilliam, managing Director of Glencraft:
We look forward to working with Huw in the coming years to help him achieve the best sleep possible. All athletes and individuals benefit from waking up and feeling well rested. That's what a Glencraft mattress offers everyday.