Take A Look Behind The Palace Doors
Take A Look Behind The Palace Doors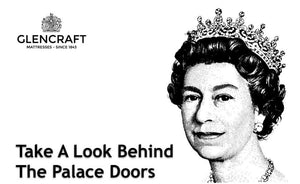 This month Glencraft was featured in an article taking a look at some of the brands and products that are favourites of Queen Elizabeth.
Interior Design
When it comes to furnishing her properties, the queen unsurprisingly opts for luxury, tradition, and history, choosing AW Hainsworth for fabrics, Sanderson for wallpaper, Albert E. Chapman for curtains, and Heirlooms for fine linens.
Charles Farris provides beeswax church candles, and in a strange quirk, A Nash supplies old-fashioned Harry Potter-style brooms for the royal sweeping. Her majesty also likes using philanthropic organisations and purchases mattresses from Glencraft.